December
It's Party Time!
Easton Branch Holiday Party
December 10th, 3 pm
Home of Claire and Paul Degnan
Join us to celebrate the holiday season. A light lunch with cookies will be provided. A variety of non-alcoholic beverages will be available. You are welcome to bring a bottle of wine to enjoy. RSVP to Karol D'Huyvetters and let her know you plan to attend.
November
Evening at the Williams Center
Allentown Symphony Orchestra
November 14, 2023
With passion and finesse, the Allentown Symphony Orchestra (ASO) plays time-honored masterworks, newly commissioned premieres by prominent composers, and unusual and intriguing repertoire. Among the ASO's honors is the American Prize in Orchestral Performance. 
A highlight of the Williams Center program will be the world premiere of an ASO-commissioned work by Composer-in-Residence Clarice Assad. Guitarist Petrit Çeku, a winner of the Schadt String Competition, will perform two of the most popular guitar works in the repertoire: Antonio Vivaldi's Guitar Concerto in D and Joaquín Rodrigo's Fantasia para un gentilhombre.
Tickets are $30. A portion of each AAUW ticket goes towards local scholarships. Spouses and friends are welcome. Please reserve tickets by October 31st.
Contact Rosemary Baker to discuss reservations for this program. Make checks payable to: AAUW Easton Branch.
October
Is Human Trafficking In Your Neighborhood
Speaker: Reverend Richard Mollica, MTS
Tuesday, October 17, 2023, 7 pm
Palmer Library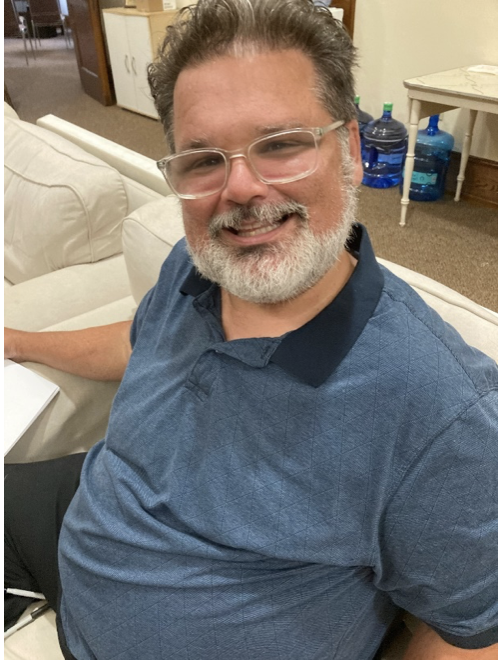 Rev. Mollica is the Senior Pastor at St. John's UCC Church in Bethlehem, Pa.  Also, he is a therapist with over 20 years of experience working with addiction, trauma, the criminal justice, and child protection systems, an expert witness in court of law in issues regarding substance use and Provider of Professional Addiction, Mental Health, and Human Trafficking Training/ Supervision. 
Come, listen, and learn how Human Trafficking has become both a local and international issue.  The Reverend Richard Mollica, MTS.  who has extensive knowledge about this issue, has important information to share with you.  He has actively pursued finding ways that Human Trafficking has become a major issue for your local community and the children known to  you and your family.  He will discuss businesses that are commonly associated with trafficking and how the internet is used to groom and extort children of all ages.  He will give you strategies and ways that you as an individual can advocate for change.
September
Women's Health Issues
Speaker: Karen Snowden, PT, DPT
Tuesday, September 19th, 7 pm
Palmer Library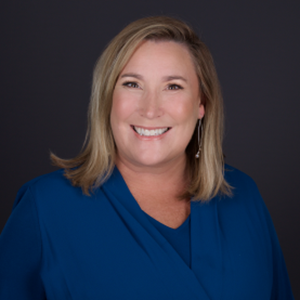 Dr. Karen Snowden is a Doctor of Physical Therapy, board certified in women s health and holds specialty certifications through the American Physical Therapy Association (APTA) in pelvic floor dysfunction and pregnancy / postpartum issues.
She has been a practicing physical therapist for more than 25 years, currently specializing in women's and men's health. She is known for her comprehensive approach to helping patients achieve their personal goals, using a holistic approach.
Dr. Snowden graduated with a Bachelor of Science in Physical Therapy degree from Northeastern University and her Doctorate in Physical Therapy from Widener University. She specializes in the treatment of pelvic health in all genders including pain, bladder, bowel, and sexual dysfunction, pregnancy-related disorders, and women's issues throughout the lifespan, including menopause. 
Join us at this first branch meeting of the new AAUW year to find out more about this topic to which we can all relate.
July
Wishing everyone a relaxing, enjoyable and fun summer. See you in the fall.
June
Let's Read Math™ is Back!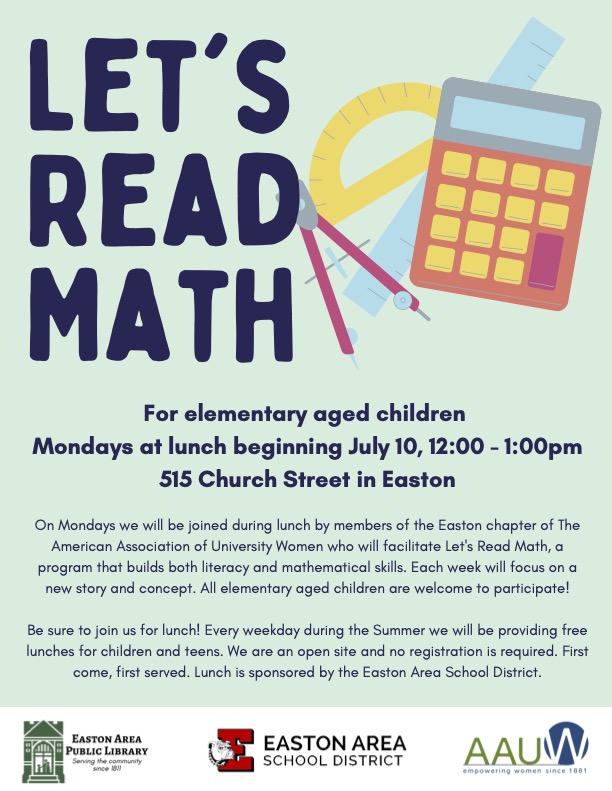 For the most part, the AAUW year is from July 1 to June 30. Most branch  interest groups do not meet over the summer and branch officers get a well deserved rest. Work does take place behind the scenes however so check back occasionally to see if there are any updates on what AAUW Easton Branch is planning.
Have a wonderful and relaxing summer and see you in September.
May
            Congratulations to our scholarship recipients and to our branch members.
Scholarship and Award Dessert

When: Tuesday, May 16 at 7pm
Where: First Presbyterian Church, 333 Spring Garden

 

Street, Easton, PA.


What: Meet our scholarship recipients and Honor our Branch Awardees
Cost: $10.00 (choice of Frosted white layer cake with lemon curd and raspberry filling served with a  scoop of ice cream or fresh fruit dish and Coffee/ tea)
Please RSVP with your name(s) and check payable to Easton Branch AAUW by May 10th. Mail check to: Fran Kennedy PO Box 1464 Easton, PA 1804.  Please indicate choice of desert.
April
Honoring Our 50 Year Members
On April 15, 2023, our Branch is having a luncheon to recognize and celebrate the women in our branch who have been members for 50 years or more.  This is our monthly program and all members are welcome to join us for lunch.  During lunch, we will recognize our 50-year members.  There will be a brief business meeting to vote for the new branch officers. 
Our 50 year members are treated to lunch, other members can order off the menu
At this time the following slate has been nominated:
Lisa Spitale and Fran Kennedy – Co-Presidents
Dr. Kathleen Morgan – V.P. Membership
Becky Goldenberg – Finance Officer