June
For the most part, the AAUW year is from July 1 to June 30. Most branch  interest groups do not meet over the summer and branch officers get a well deserved rest. Work does take place behind the scenes however so check back occasionally to see if there are any updates on what AAUW Easton Branch is planning.
Have a wonderful and relaxing summer and see you in September.
May
            Congratulations to our scholarship recipients and to our branch members.
Scholarship and Award Dessert

When: Tuesday, May 16 at 7pm
Where: First Presbyterian Church, 333 Spring Garden

 

Street, Easton, PA.


What: Meet our scholarship recipients and Honor our Branch Awardees
Cost: $10.00 (choice of Frosted white layer cake with lemon curd and raspberry filling served with a  scoop of ice cream or fresh fruit dish and Coffee/ tea)
Please RSVP with your name(s) and check payable to Easton Branch AAUW by May 10th. Mail check to: Fran Kennedy PO Box 1464 Easton, PA 1804.  Please indicate choice of desert.
April
Honoring Our 50 Year Members
On April 15, 2023, our Branch is having a luncheon to recognize and celebrate the women in our branch who have been members for 50 years or more.  This is our monthly program and all members are welcome to join us for lunch.  During lunch, we will recognize our 50-year members.  There will be a brief business meeting to vote for the new branch officers. 
Our 50 year members are treated to lunch, other members can order off the menu
At this time the following slate has been nominated:
Lisa Spitale and Fran Kennedy – Co-Presidents
Dr. Kathleen Morgan – V.P. Membership
Becky Goldenberg – Finance Officer
March
LUNAFEST in Pictures
Community One Read
March 21, 6:30 pm
Palmer Library
Have you ever wondered why there are so many words in the English language that are derogatory to women? And how these words came to mean what they do today?
Join us to find out the answers to these questions and more as Dr. Stacey Zaremba, Psychology Professor at Moravian University gives us insight into this issue and leads what will be a lively discussion.
Bring your friends and learn how to recalibrate!
February
Mental Health and Teens: What We Should Know
Tuesday, February 21st
7:00 pm via Zoom
In this time of an increasing mental health crisis in our communities and especially among teens, join us to learn what teens are facing and what can be done.
Dana Milakovic, Mental Wellness and Trauma Specialist and Joseph Welsh, Executive Director of the Lehigh Valley Justice Institute are our panelists.
All branch members will receive the zoom link. Community members – please RSVP at aauweastonprograms@gmail.com for the link.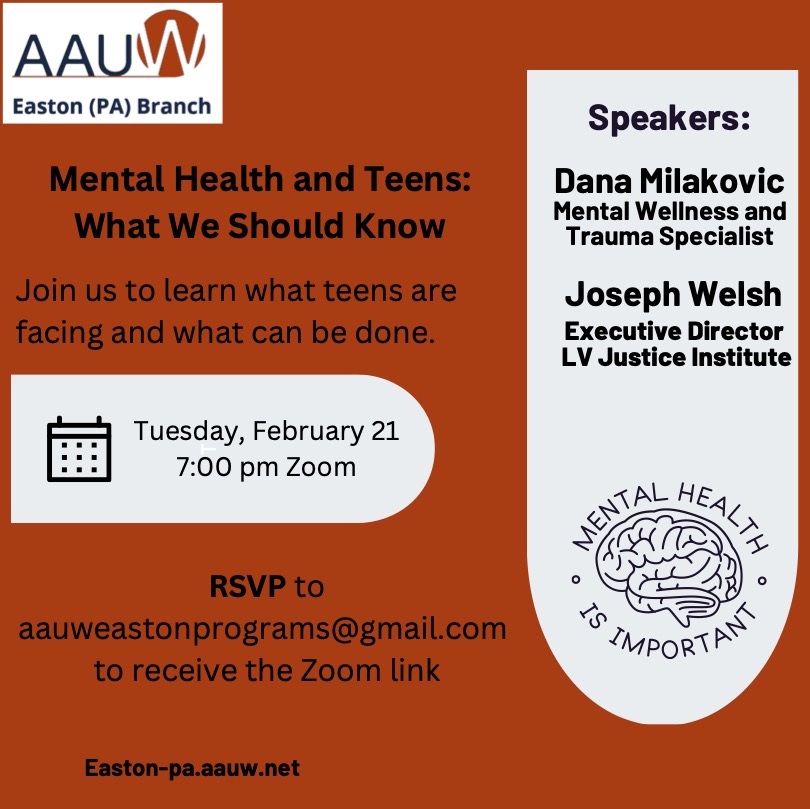 January
No branch meeting in January.
December
Fun Time at the Holiday Party
It's Party Time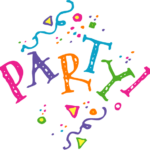 WHEN:   Sunday, December 11th, 1 – 4 pm
WHERE:  79 Central Drive, Easton
WHY:      Just to have fun
Join Lois and Ken Wildrick and other branch members and their spouses, companions, significant others to celebrate the holidays. A light lunch with cookies will be provided as well as non-alcoholic drinks. You are welcome to BYOB to enjoy as you celebrate the season. 
November

Evening at the Williams Center
Thursday November 10, 8pm
Ensemble Basiani
In repertoire spanning the seventh to 13th centuries, Ensemble Basiani embodies a vocal tradition unique to the Republic of Georgia. The 12-member, all-male choir of the Tbilisi Holy Trinity Cathedral Church are practitioners of a complex, three-voice polyphony that weaves surprising harmonies, melodic yodeling, and pristine intonation to deliver a celestial sound. With a vast canon of sacred, folk, dance, and love songs that traverses their colorful country—from the mountainous north, to the eastern Kakheti region, to the Black Sea in the west—Ensemble Basiani's music is the most captivating in the world.
Tickets are $30. A portion of each AAUW ticket goes towards local scholarships. Spouses and friends are welcome. Please reserve tickets by October 31st.
Please send reservations by October 31st to: Rosemary Baker. Make checks payable to: AAUW Easton Branch.
October
Fix Harrisburg Campaign
October 18th, 7 pm
Palmer Library
Michael Skros, a speaker from Fair Districts PA, will be presenting information about the FIX Harrisburg campaign and Reforming the Rules that make it so easy for bills to never reach a vote. He will explain how current unfair rules allow committee chairs to block broadly supported bipartisan solutions from getting to a vote. He will address the need to reform the rules in Harrisburg and he will discuss ways that organizations like AAUW Easton Branch and individuals can advocate for change. This is a public education program and open to the general public.
Bring your questions and bring friends.
September
Coffee, Cake Carrots and Conversation


September 17th, 2:00 – 3:30 pm
Palmer Library

Meet us at the Palmer Library to engage in an interesting and informative conversation about Hunger: A Memoir of My Body by Roxane Gay. Everyone is welcome.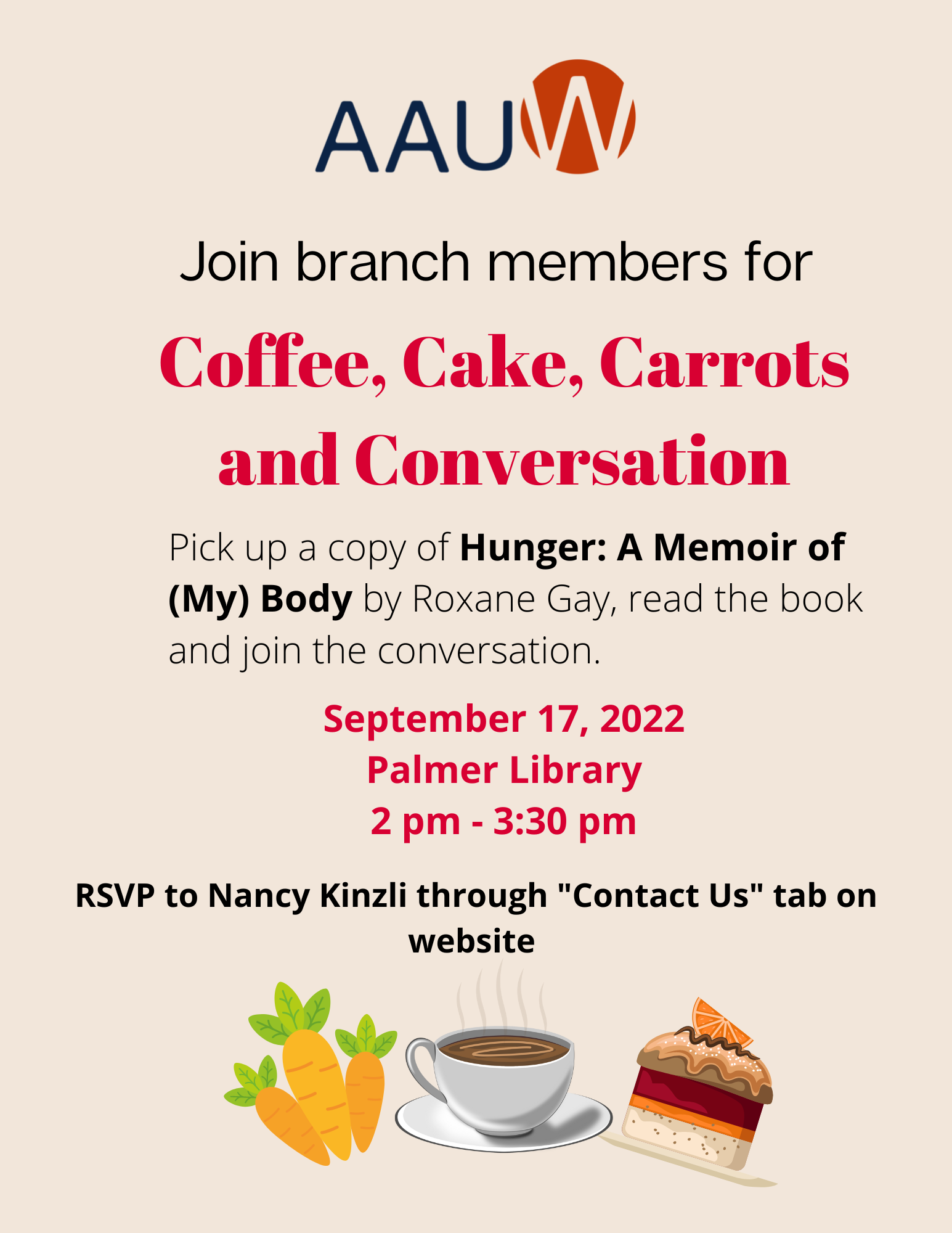 August
Members of the DEIB Interest Group met at the Sigal Museum to sign the Treaty of Renewed Friendship with the Lenape People.